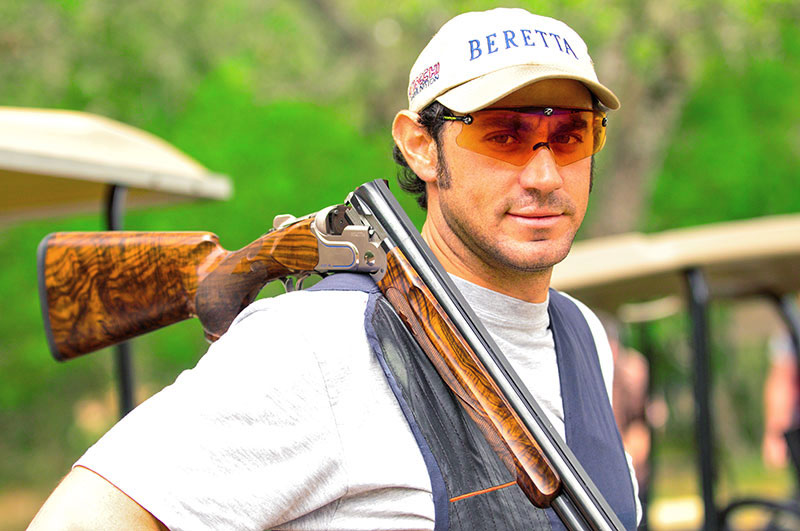 Anthony I. Matarese Jr. – Chief Instructor/Founder of A.I.M. Shooting School
Anthony I. Matarese Jr. of Pennsville, NJ was born in 1984 and started shooting at six years old. At age 10 he started shooting competitive sporting clays and began studying the art of shooting under the guidance of Olympic Medalist Dan Carlisle.
Anthony's list of accomplishments is long, impressive and still growing. Anthony is recognized as one of the top competitors in the world and in 2014 Anthony became the youngest shooter in history to be inducted into the National Sporting Clays Hall of Fame.  In 2016 Anthony became the first American to win the World Sporting Clays Championship.  In 2020 Anthony became the first person win all 4 major titles during his shooting career: The US Open, National Championship, World Sporting Clays Championship, and the World FITASC Championship.  While Anthony's shooting career is still in full swing he is considered the most successful American Sporting Clays shooter of all time based on his National and International performances.
Anthony began his teaching career at the young age of 14 and many of his students have gone on to have great success at the national and international level. Anthony is recognized as one of the very best shooting instructors in the world. Anthony's dedication to the game and his passion to pass on what he has learned to other shooters is evident in this teaching. He has become one of the leaders in the shooting world and his experience will make you a better shooter. Anthony is a Graduate of Franklin and Marshall College where he earned degrees in both Business Finance and Economics. Anthony teaches shooters of all experience levels from first time shooters to world-class shooters.  Book a lesson with Anthony to learn from the best shooting instructor / coach in the world. 
Major Accomplishments:
27 Time All-American Team Member
16 Time Member of Team USA Sporting Clays
15 Time Member of Team USA FITASC
3 Time Browning / Briley Champion
4 Time Great American Champion
6 Time New Jersey State Champion
5 Time All-Around HOA at National Championship
3 Time National FITASC Champion
2 Time East Coast Championship HOA
2001 US Open Runner-Up
2005 US Open Course Designer
2006 Seminole Cup Champion
2006 US Open Third Over-all
2006 World FITASC Bronze Medalist (Tied for Gold Medal, lost in shoot-off)
2007 US Open Third Over-all
2008 US Open Champion
2008 World FITASC Silver Medalist
2008 National Sporting Clays Champion
2009 US Open Third Over-all
2009 National Championship 3rd Over-all
2010 World FITASC Bronze Medalist
2011 National Championship 3rd Over-all
2011 US Open Course Designer
2011 World FITASC Bronze Medalist
2012 US Open Champion
2012 National Championship Runner-up
2013 US Open Third Over-all
2013 International Trap National Championship – 5th
2013 National Championship Runner-up
2014 Nad Al Sheba Silver Medalist – Dubai – UAE
2014 National Sporting Clays Hall of Fame Inductee
2015 World Championship Team International Trap
2016 Gator Cup Champion (100 Straight on Day 1)
2016 World Sporting Clays Champion
2016 World FITASC Bronze Medalist
2016 National Championship Runner-up
2017 National Championship 3rd Overall
2018 US Open Runner-up
2018 National Championship 3rd Overall
2019 Gator Cup Champion
2020 World FITASC Champion
2021 National FITASC Champion
2021 US Open Champion
2022 US Open Runner-up 
2022 National Championship 3rd Overall 
Wins as a Junior Shooter:
2 Time World Sporting Junior Champion
3 Time National Junior Champion
3 Time US Open Junior Champion
Sub-Jr National Champion
3 Time National FITASC Junior Champion
Anthony's Calendar, Locations and Rates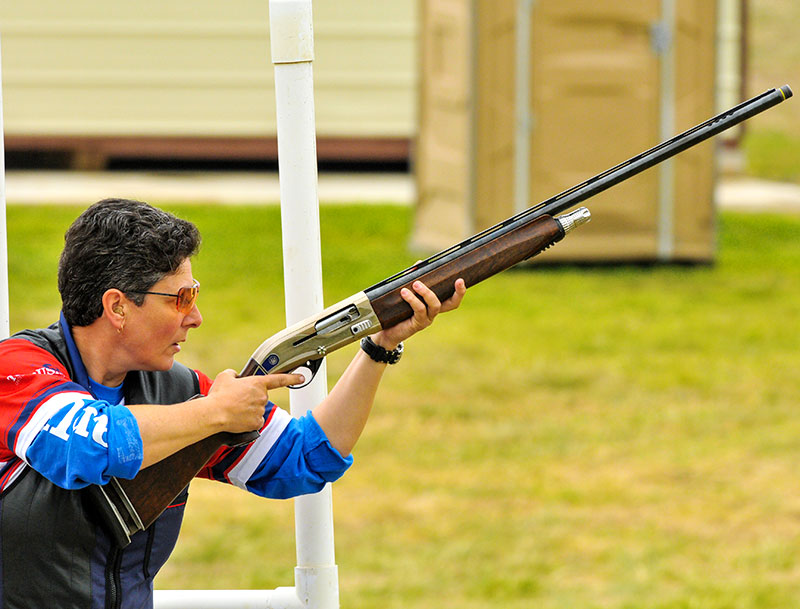 Diane Sorantino – Associate Instructor
Diane Sorantino is arguably the most accomplished female sporting clays competitor of all time. Diane was introduced to hunting and clay target shooting by her father at the early age of 9 years old. Diane has over 40 years experience both as competitive shooter and hunter. Diane's father was a competitive trap shooter and was instrumental in starting her off with a great foundation in shooting. In later years Diane, like Anthony, took her sporting clays game to the next level by taking lessons from and training under the guidance of Dan Carlisle. As a result, the foundation that Anthony and Diane share allows them to work together cohesively to provide a shooting method that is shared by A.I.M. Shooting School. Anthony and Diane work and shoot together to ensure that their shooting methodology always compliments each other. Diane teaches shooters of all experience levels from new shooters to Master Class shooters.
Major Accomplishments:
Member of the National Sporting Clays Association Hall of Fame
4 – Time Ladies World Champion
5 – Time US Open Ladies Champion
3 – Time Ladies National Sporting Clays Champion
5 – Time National FITASC Ladies Champion
19 – Time Member of United States Shooting Team
20 – Time Ladies 1st Team All-American Team Member
17 – Time New Jersey State Ladies Champion
33 – International Medals both Individually and Team Medals
Member of Professional Sporting Clays Tour
Diane's Calendar, Locations and Rates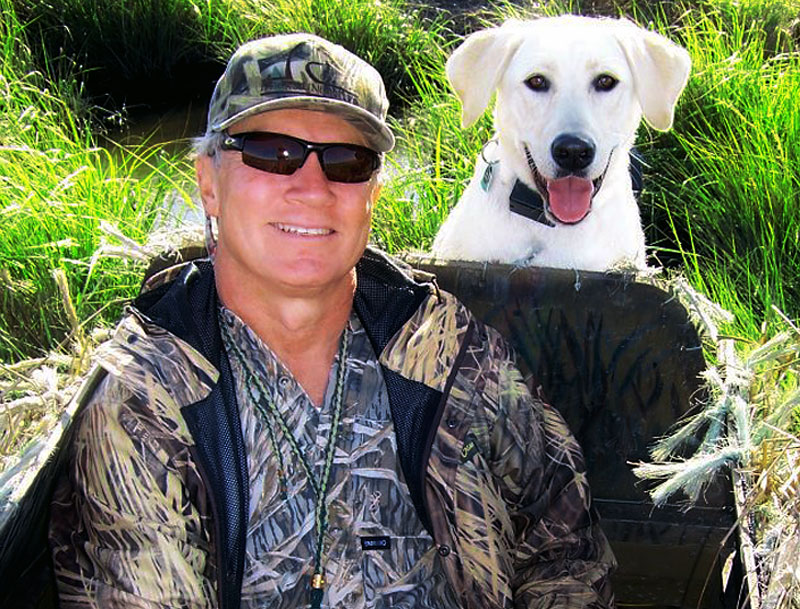 Dan Krumm – Associate Instructor
Dan Krumm is an experienced recreational sporting clays shooter and an avid waterfowl hunter. Dan's attention to detail is second to none; to describe him as a perfectionist would be an understatement. After retiring from 37 years of service at DuPont, Dan has made teaching shooting his passion. Dan is a lifetime resident of Pennsville, NJ making him readily available at M&M Sporting Clays. Dan specializes in teaching beginners and recreational shooters. Dan's experience as a hunter also makes him the perfect instructor for wing shooting. Dan has spent countless hours mentoring with Anthony I. Matarese Jr. to learn the correct teaching methodology and fundamentals. As a result, the fundamentals that Anthony, Diane, and Dan share allow them to work together cohesively to provide a shooting method that is shared by A.I.M. Shooting School. A lesson or series of lessons with Dan is a great way to establish a solid foundation in your shooting with a big emphasis on the correct fundamentals. After your shooting has reached a certain level of proficiency Dan will suggest that you follow up with Anthony or Diane to continue your education to the next level. Dan teaches novice and recreational shooters averaging less than 70%.
Dan's Calendar, Locations and Rates
"We look forward to helping you improve your shooting"
FREQUENTLY ASKED QUESTIONS:
What should I do to prepare for my lesson?
It would be a good idea to familiarize yourself with our shooting methodology. We suggest purchasing our instructional video courses and/or Straight Shooting book. These are great resources to review after your lesson.
How much ammo should I bring or can I buy ammo there?
Generally it is recommended that you bring one flat or 250 rounds with you. You can always take it home with you if you bring too much! M&M always has ammo for purchase if you want to buy it here.
What if it rains?
Generally lessons are conducted unless there is heavy rain or lightening. It is suggested that you touch base with your instructor the day before your appointment if the weather looks bad. If it just looks like a light rain or shower bring your rain gear.
What is best form of payment?
Lesson fees must be paid cash or check.  Target fees can be paid with Visa or MasterCard.
Do I need a deposit?
No, your commitment is your deposit. If you cancel less than 72 hours prior to your scheduled appointment time you will be responsible for 50% of your lesson fee.  Same day cancelations and no shows will be billed for 100% of the missed lesson fee.  The invoice for this fee will be emailed or mailed to you and is due upon receipt.
Do you have guns we can use?
What method/technique does A.I.M. Shooting School teach?
A.I.M. Shooting School's technique/method is based on being in "control" of every target by learning how to "connect" with each different type of presentation. You will learn to use the method that best allows you to get control of the target. You will end up using a variation of a few common shooting methods.
Tell me about the associate instructors?
Anthony's associate instructors are very professional and have spent countless hours learning the same teaching style as Anthony so that A.I.M. Shooting School shares a common methodology. Diane Sorantino works with shooters of all experience levels. Dan Krumm specializes in teaching new shooters and recreational shooters. Associate instructors' rates are considerably less expensive than Anthony's rates so this offers a price structure that hopefully fits everyone's budget.
Should I do a private lesson or a "shooting school?"
Both are very effective means of learning and you will learn a lot regardless which option you choose. Ask yourself if you would be more comfortable in a 1-on-1 scenario or with a group? In group "shooting schools" we try our best to keep experience levels as close to together as practical.
Can a friend and I share a lesson?
Yes, you can always bring one person to share a lesson at no additional charge. If you have 3+ students you will add a flat fee of $25 per hour that will be added to the hourly rate.
How long is a lesson?
This depends on many factors. There is always a 1.5 hour minimum on all lessons. If you are an experienced shooter it is recommended that your first lesson is 2-3 hours. For new shooters and beginners 1.5-2 hours is enough time for your first lesson. You can always share a lesson with a friend just plan accordingly to schedule enough time for 2 people. Generally 2 hours for 2 people is enough time and 3 hours for 2 people is even better.
It is suggested that students traveling in from out of town take 5-6 hours of instruction over two days.  We can customize a schedule that makes sense to you.
How often should I take a lesson?
You will become a better shooter after taking just one lesson. However, a series of lessons is the ideal way to really develop your shooting. The idea is to practice your homework in between lessons and follow up when you feel the time is correct for you. Some students take just one to two lessons every year, with other students taking lessons as frequently as every 2-3 weeks. There is no frequency that is correct as everyone has different time and financial constraints as well as different goals for their shooting.
How can we get you to come to our club?
Contact us for details. Depending on your location and travel time to your location we will quote you a price and a minimum number of days required.
If I am from out of town where should I fly into and where should I stay?
M&M Sporting Clays is located 21 miles from the Philadelphia International Airport.  M&M has a very nice lodge that is located on the club property.  You can call the M&M office to schedule a room: (856) 935-1230.  Click here to learn more about our lodge: http://mmhunting.com/hunting-lodge/#about-lodge.  The Hampton Inn and Super 8 in Pennsville, NJ are located approximately 4 miles from the gun club.