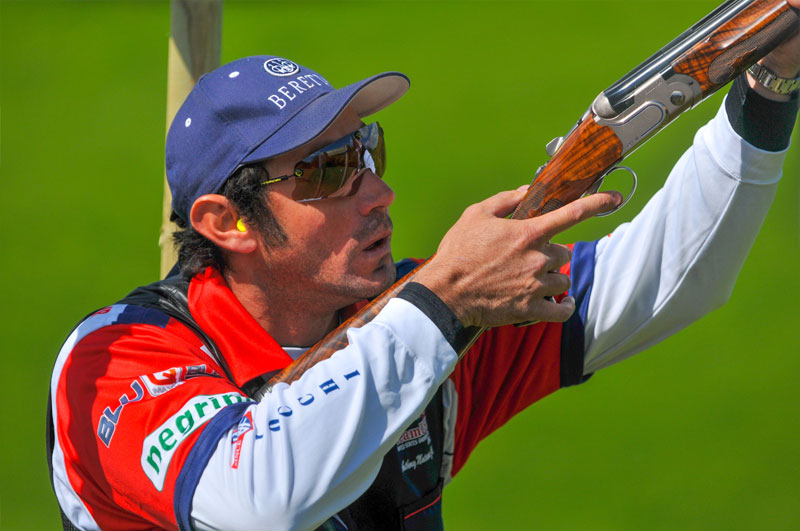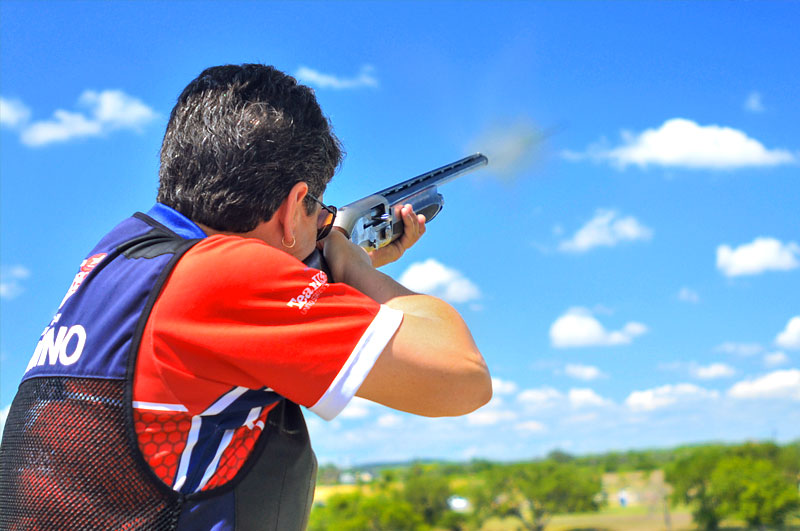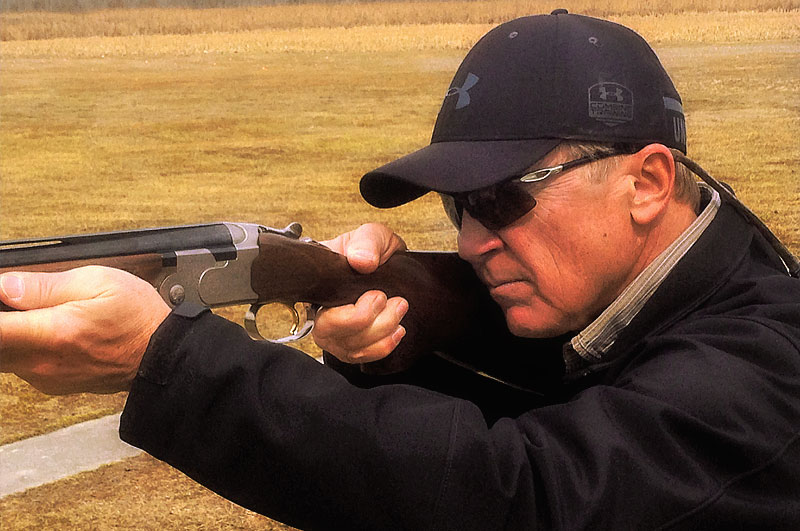 METHODOLOGY:
A.I.M. Shooting School uses a method and technique that has been developed and perfected through decades of shooting and studying the game both as shooters and shooting instructors. The method is really a combination and hybrid of several traditional shooting styles. Anthony I. Matarese Jr. was initially coached by the legendary Dan Carlisle and has gone on to develop his own style.

The method of A.I.M. Shooting School is based on being in "control" of every target by learning how to "connect" with each different type of target presentation. A.I.M. Shooting School uses a base technique with a few core principles that can be tailored to allow the shooter to approach a target in the most efficient manner. You will learn how to balance the science of shooting with the instinctive "feel" part of the game.
The key to becoming a better shooter is always routed in proper fundamentals. Anthony and his Associate Instructors look forward to teaching you these fundamentals. Diane Sorantino and Dan Krumm have spent countless hours mentoring with Anthony I. Matarese Jr. to learn the correct teaching methodology and fundamentals.
As a result, the fundamentals that Anthony, Diane, and Dan share allow them to work together cohesively to provide a shooting method that is shared by A.I.M. Shooting School. You will leave with handouts outlining everything that you have learned and clear instructions on what you need to do to improve your shooting.
 What you will learn includes:
• Proper Gun Mount
• Stance/Form
• Hold Points and Break Points
• Hard Focus vs. Soft Focus
• Methods of acquiring lead
• How to "connect" & "control"
• Eye Dominance Exam
• Target Acquisition
• Gun Fit Suggestions
• How to find the "feel" part of the game
• You will leave with homework

"Anthony I. Matarese Jr. has a better understanding of the game than any other clay shooter/instructor in the world. 3 weeks before the 2010 National Championship, I had a 2-hour lesson with Anthony Matarese. He told me exactly what I needed to work on, I listened and won the National Championship."
"Anyone wanting the best instructor, who has dedicated himself to being the most knowledgeable about the shotgun sports needs to see Anthony I. Matarese Jr. Many of our novice shooters have gone from hitting nothing to dusting some of the most difficult shots in a single lesson. I am proud and privileged to have Anthony teach at our facility."
"All of the instructors that work under A.I.M. Shooting School are excellent teachers and very professional. I have been to every shooting school in the United States and A.I.M. Shooting School provides the best instruction at the most competitive prices. In my opinion A.I.M. Shooting School is the only shooting school in the U.S. that effectively teaches students of all levels. Anthony's associate instructors provide you with a better education than you will receive at many high-end shooting schools for ½ the cost." 
"Anthony's coaching methods cover all aspects of shooting sporting clays, from the mental game to the very difficult technical targets giving you a sound method to break targets you may never have thought possible. He has the experience and knowledge that is unmatched in target setting and coaching."
"In order to maintain a competitive edge, in any sport, requires practice. In order to practice effectively and efficiently, requires lessons from a professional, so you are not continually reinforcing bad habits. My consistent lessons with Anthony, have helped me maintain that competitive edge. He has an uncanny ability to pinpoint the exact reason, for missing a target, yet has an even more impressive ability to communicate the necessary changes, that have to be made. He makes it easy to interpret his instruction and implement those changes, for continuously improved performance"
"Anthony has helped my shooting more than any other coach/competitor out there."
FREQUENTLY ASKED QUESTIONS:
What should I do to prepare for my lesson?
It would be a good idea to familiarize yourself with our shooting methodology. We suggest purchasing our instructional video courses and/or Straight Shooting book. These are great resources to review after your lesson.
How much ammo should I bring or can I buy ammo there?
Generally it is recommended that you bring one flat or 250 rounds with you. You can always take it home with you if you bring too much! M&M always has ammo for purchase if you want to buy it here.
What if it rains?
Generally lessons are conducted unless there is heavy rain or lightening. It is suggested that you touch base with your instructor the day before your appointment if the weather looks bad. If it just looks like a light rain or shower bring your rain gear.
What is best form of payment?
Lesson fees must be paid cash or check.  Target fees can be paid with Visa or MasterCard.
Do I need a deposit?
No, your commitment is your deposit. If you cancel less than 72 hours prior to your scheduled appointment time you will be responsible for 50% of your lesson fee.  Same day cancelations and no shows will be billed for 100% of the missed lesson fee.  The invoice for this fee will be emailed or mailed to you and is due upon receipt.
Do you have guns we can use?
What method/technique does A.I.M. Shooting School teach?
A.I.M. Shooting School's technique/method is based on being in "control" of every target by learning how to "connect" with each different type of presentation. You will learn to use the method that best allows you to get control of the target. You will end up using a variation of a few common shooting methods.
Tell me about the associate instructors?
Anthony's associate instructors are very professional and have spent countless hours learning the same teaching style as Anthony so that A.I.M. Shooting School shares a common methodology. Diane Sorantino works with shooters of all experience levels. Dan Krumm specializes in teaching new shooters and recreational shooters. Associate instructors' rates are considerably less expensive than Anthony's rates so this offers a price structure that hopefully fits everyone's budget.
Should I do a private lesson or a "shooting school?"
Both are very effective means of learning and you will learn a lot regardless which option you choose. Ask yourself if you would be more comfortable in a 1-on-1 scenario or with a group? In group "shooting schools" we try our best to keep experience levels as close to together as practical.
Can a friend and I share a lesson?
Yes, you can always bring one person to share a lesson at no additional charge. If you have 3+ students you will add a flat fee of $25 per hour that will be added to the hourly rate.
How long is a lesson?
This depends on many factors. There is always a 1.5 hour minimum on all lessons. If you are an experienced shooter it is recommended that your first lesson is 2-3 hours. For new shooters and beginners 1.5-2 hours is enough time for your first lesson. You can always share a lesson with a friend just plan accordingly to schedule enough time for 2 people. Generally 2 hours for 2 people is enough time and 3 hours for 2 people is even better.
It is suggested that students traveling in from out of town take 5-6 hours of instruction over two days.  We can customize a schedule that makes sense to you.
How often should I take a lesson?
You will become a better shooter after taking just one lesson. However, a series of lessons is the ideal way to really develop your shooting. The idea is to practice your homework in between lessons and follow up when you feel the time is correct for you. Some students take just one to two lessons every year, with other students taking lessons as frequently as every 2-3 weeks. There is no frequency that is correct as everyone has different time and financial constraints as well as different goals for their shooting.
How can we get you to come to our club?
Contact us for details. Depending on your location and travel time to your location we will quote you a price and a minimum number of days required.
If I am from out of town where should I fly into and where should I stay?
M&M Sporting Clays is located 21 miles from the Philadelphia International Airport.  M&M has a very nice lodge that is located on the club property.  You can call the M&M office to schedule a room: (856) 935-1230.  Click here to learn more about our lodge: http://mmhunting.com/hunting-lodge/#about-lodge.  The Hampton Inn and Super 8 in Pennsville, NJ are located approximately 4 miles from the gun club.